Published: April 25, 2016
Tips To Enhance Your Tandem Skydive Experience
If you're thinking of making a tandem skydive, here are a few tips to help ensure you have the best experience possible.
Schedule Early
Skydiving is a weather-dependent sport, so choosing the right part of the day is important. In Missouri, weather delays tend to happen during the hottest part of the afternoon, usually around 3:00pm and after. This is especially true during the summer months. The early bird truly gets the worm as cooler temps in the morning allow for calmer conditions and a reduced chance of being delayed.
Stay Patient
As mentioned, the weather does play a major factor in order for us to safely enjoy skydiving. Sometimes, guests can get impatient and even angry if the wait times become too long due to weather delays. Unlike riding on a roller coaster, there is risk involved and our number one objective is to keep everyone safe. Please be patient. We recognize that no one likes to wait and we certainly don't enjoy being on the ground... we love skydiving! A wise old skydiver once said, "It's better to be on the ground wishing you were in the air than in the air wishing you were on the ground."
We wholeheartedly agree with this statement! As mentioned above, try to schedule your jump as early as possible as that tends to be the best time of day for jumping.
Eat Normally
During your skydive, you will feel an incredible rush of adrenaline as your body experiences a literal spike of energy that you seldom ever feel. If you've not eaten properly, blood sugar levels can plummet leaving you feeling nauseated and sometimes sick.
Many guests have elected not to eat prior to their skydive in fear that they would be sick. While it's best not to overeat on unhealthy foods, the chance of being sick is greatly increased if you eat nothing at all.
Many guests are surprised to learn that unlike a roller coaster, your stomach doesn't drop which can create that 'sick' feeling. With a skydive, you'll be riding on a marvelous column of air allowing you to feel like you're floating instead of falling. This is why everyone is smiling during free fall instead of screaming as seen when a roller coaster races downhill.
Stay Hydrated
Staying hydrated is equally important as eating normally. Again, your body will be enduring a surge of energy. It's very easy for our guests to feel ill if dehydrated. We ask our guests to drink plenty of water prior to their skydives especially during the heat of summer. Becoming overheated can easily happen and the effects of that leads to a negative experience. Stay away from sugary drinks and stick to good old fashioned water!
Dress Appropriately
Be sure to dress correctly for the conditions. If it's warm, a tee shirt and shorts are fine, however if it's a bit chilly try to stay away from bulky clothes. It's always best to dress in layers that you can peel off. Also, footwear is very important. Flip flops or open-toe shoes will disqualify you from making your jump. Tennis shoes or sneakers are best. Many people think boots are ideal... they're not. Cowboy boots can be very uncomfortable for landings and work boots with metal clips can be a snag hazard. If needing extra support, high top basketball shoes will be best.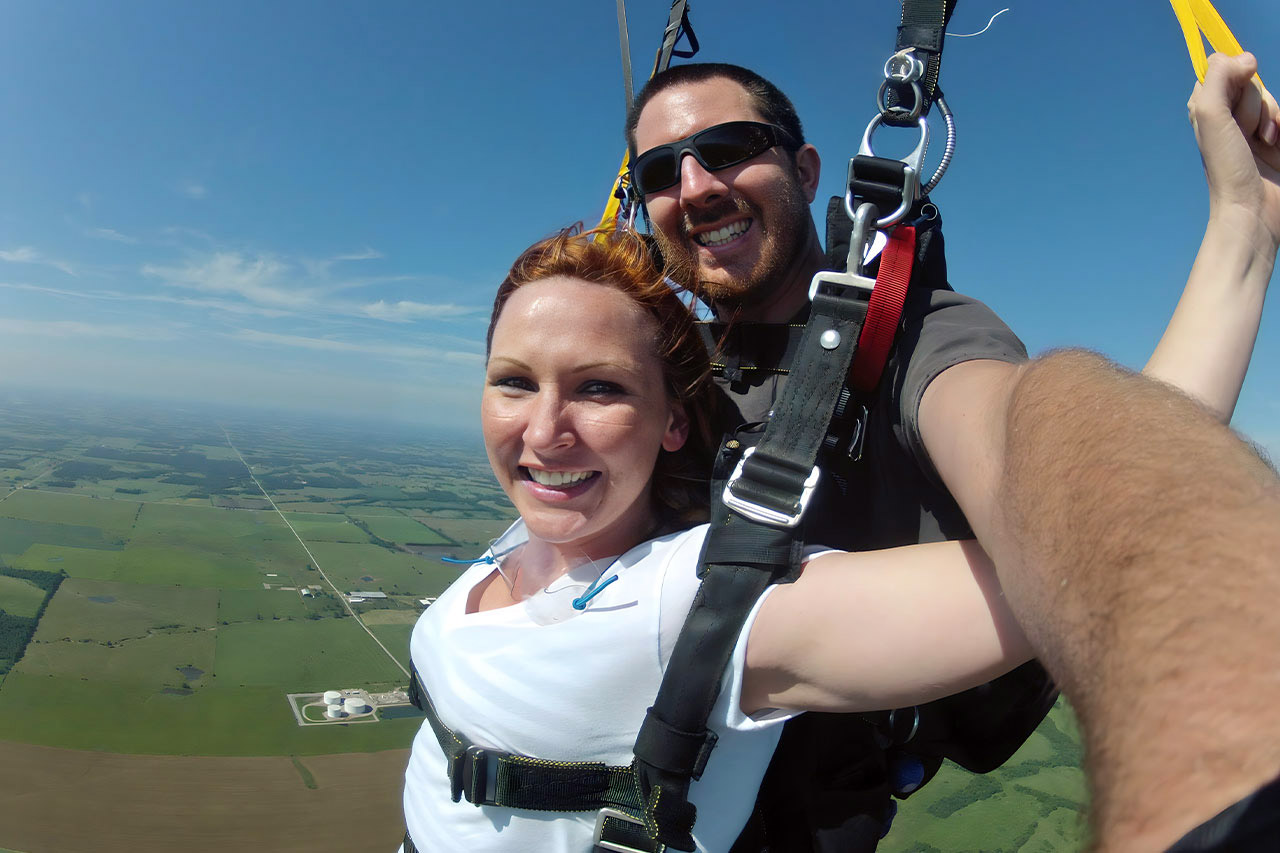 Be Sure To Get Photos
If our guests regret anything about their experience, it's not getting photos or video of their skydive. For many, skydiving is a life changing event. The reason it is so momentous is because it's SO out of the norm from how many live their daily lives. You'll be faced with an open door of an airplane thousands of feet from earth... and then you will leap from it! This is worth having documented!
Don't Be In a Rush
Don't be in a rush to get here and don't be in a rush to leave!
Often, those who are running late for their reservations tend to arrive frazzled leaving individuals not in the best state of mind prior to their jump. Plan to leave for the skydive center a little early so you're in no rush and that way you can be best prepared to face the challenge ahead of you!
On the flipside, don't schedule anything right after your skydive. As mentioned earlier, the uncontrolled variable of weather can delay things. If you're in a hurry to complete your skydive in order to make an engagement after the jump, then you won't enjoy the experience to the degree that you should.
We wish our guests to be present and in the moment, not worried about lunch or early dinner plans after the experience.
Skydiving in Missouri
Ozarks Skydive Center prides itself on delivering the best skydiving experience possible. We have been serving the Missouri skydiving community since 2012 and have gained a great reputation in a few short years. We desire all of our guests to have a truly great experience and we think the tips stated above is the foundation for a great skydiving experience!